Publié le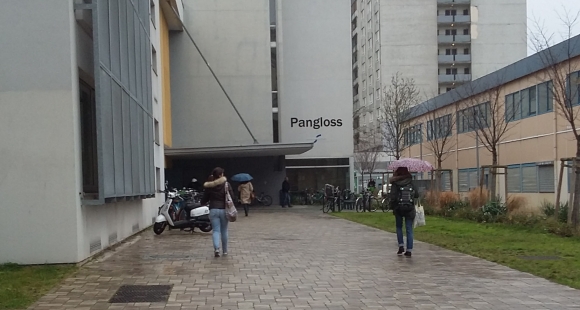 The refugees welcomed by the city of Strasbourg left everything behind in Syria, Iraq and other countries in conflict. Faced with this influx, the University of Strasbourg has devised a pathway to social integration and even education: French 101. To date, the university has invested €45 thousand in free French classes for 75 refugees. However, the program will be short-lived unless it finds funding.
After just four months, Steven, an Iraqi from a village near Mosul, can tell his story in French. "Because of problems faced by Christians in Iraq," he had to stop his studies and "fled Daesh" with his family. He arrived in Strasbourg "on January 13, 2015," a date he'll never forget. He is grateful but says, "I need work. How can I keep living like this?"
According to Mathieu Schneider, University of Strasbourg Vice President of Science in Society, "Language is the key to social integration." Inspired by its humanist tradition, the school has provided free French classes to 75 refugees primarily from Syria and Iraq. The school-funded budget totals €45 thousand. University President Alain Beretz told Strasbourg Mayor Roland Ries, "You welcome them, we teach them."
Survival Skills
For teacher Mady Trescarte, "Learning French is a matter of survival for refugees. In three months, they learn what others learn in six." Fellow teacher Emmanuelle Pralong says, "We'd love for all our students to be Syrians and Iraqis. They're kind, polite, engaged and very motivated." IIEF language school Director Liliane Koecher says the classes are "a bubble for the refugees where they feel protected from daily struggles".
"Most of them had jobs back home. We've had engineers and doctors who want to learn French so they can continue their work. It's harder for those who didn't finish their studies to establish equivalency," explains international house staffer Nadia Kardouz. All the students have either applied for or obtained refugee status. Kardouz works with the university support services to find them housing and financial assistance.
French Funding
The third class may be the last. The school's foundation launched an appeal but only collected €3,000 "because of refugee-related tensions after the events in Cologne," explains Schneider. That's not enough. "We've received applications from refugees in Paris and Lille," says Kardouz.
The University of Paris X Nanterre and the University of Grenoble Alpes contacted Strasbourg to "put words into action and see how we did it," says Schneider. "But we feel like we're on our own. The government needs to shoulder its responsibilities."
Translated by Nina Fink, Isabelle Maradan
|
Publié le