Publié le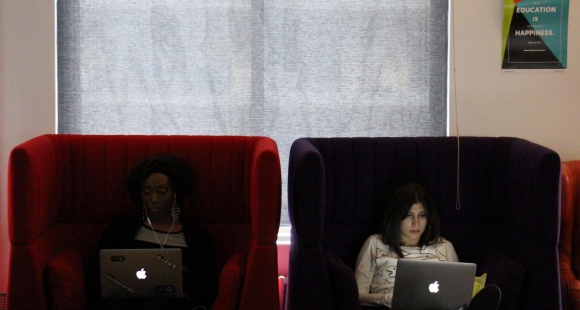 As of September, Hachette Livre and the New York-based startup Knewton are partners in adaptive learning. This new educational method combines algorithms, cognitive psychology and big data to personalize education. The approach doesn't come for free but American schools and software designers see real potential in it.
How can colleges and universities teach more students while keeping costs down and success rates up? How can professors tailor coursework to a whole host of individual needs? Adaptive learning might just be the answer.
The term describes both a teaching philosophy and a set of tools that combine big data, A.I., machine learning, neuroscience and cognitive psychology. At its core are online exercises that adapt to individuals' abilities in real time. The goal is to help everyone succeed while fostering a love of learning, with the teacher acting as guide.
Room to Grow
More and more American schools are buying the software for around $100-200 per class per student per semester. Startups including Knewton, LoudCloud and Smart Sparrow partner with publishers like Pearson and McGraw-Hill and sell their software. Fans include the Bill & Melinda Gates Foundation and Carnegie Mellon. The former offers ten $100 thousand grants to promote adaptive learning in higher education and the latter runs an Open Learning Initiative.
However, according to Brian Fleming, Senior Analyst at Eduventures, adaptive learning remains a niche experiment and only about 5% of U.S. schools have the tools. Among them are American InterContinental University, Arizona State University and the University of Texas.
Food for Thought
The method's results speak for themselves. Thanks to the Knewton software, Arizona State University has seen its math class pass rate rise 18% and its corresponding student withdrawal rate drop 47%, according to a Tyton Partners report. Tyton maintains that adaptive learning could produce "a higher-quality learning experience at potentially reduced cost [while] increasing access."
However, the same report notes that implementation is hard, given the cost and the need to rethink both curricula and the role of teachers. What's more, no quality control system has been developed. Lastly, the approach raises questions about the information collected on student behavior. It remains to be seen whether that data will be coopted for commercial purposes.
Jessica Gourdon, Translated by Nina Fink
|
Publié le